Area characterized by mountain building episodes and sedimentation (mountain erosion) intruded by numerous granites. Locally most of the sediments are related to the 

Bisbee Formation
Intrusions in the Tombstone area range from 74 Ma to 63 Ma in age, fixing the age of the District as

Laramide, which is host to a number of porphyry mines
Volcanic geology and structure in the Tombstone area are related to a district-scale Laramide caldera and attendant

hydrothermal fluid migration
These districts are typically zoned from silver-rich peripheries to higher base-metal and gold contents near to the intrusions. Copper-gold mineralization occurs in intrusion-hosted stockworks, skans, or mantos
The area is very rich in silver and other base metals ore has never been explored in modern

times

with a "big picture" view and utilizing a thorough systematic approach. More than 95% of the production is from the surface to 200m and is primarily from oxide ore minerals leaving to Tarku high potential for

New Discoveries
Tarku's compilation and the 2021 drill program, revealed the presence of silver, gold, lead and zinc at high-grades suggesting further similarities to the nearby

Hermosa Project

, which was sold for $1.8 billion in 2018.
The deposit model is a Carbonate Replacement Deposit ("CRD") System.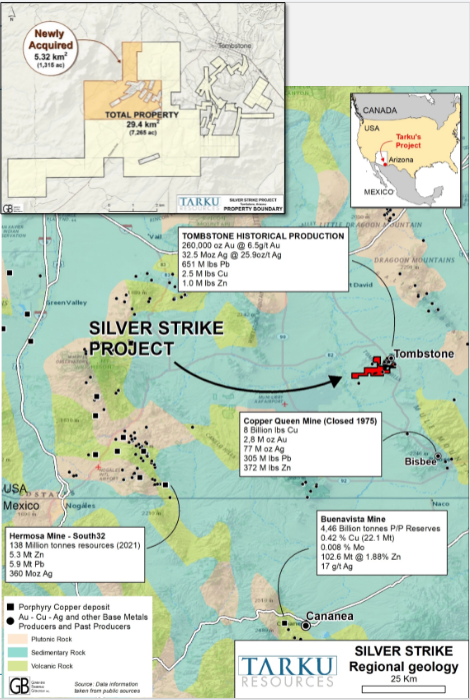 THE CRD MODEL
Tarku's compilation work and 2021 drill program suggest that the Carbonate Replacement Deposit (CRD) model could be more extensively spread over the Silver Strike property than originally expected and that the limits have not yet been found :
Variety of mineralization within the sediments at Lucky Cuss and Ground Hog,

Dominant alteration (Calcitic, silicification, hornfels)
Similarities with the

Hermosa Project

, located 80km west in Santa Cruz County, Arizona which South32 acquired for USD 1.8 billion in 2018. The Hermosa Project, which hosts the Taylor Deposit, is hosted in comparable age and sediment types and is classified as a CRD style zinc-lead-silver massive sulphide deposit.